Having marinated chicken in the freezer, ready to pull out at a moment's notice makes dinner so easy during the week.  Here is how I turn one dinner into two!
Instructions for Italian Chicken - Freezer Cooking Style
Start with frozen chicken breast strips
Put half the chicken in one freezer bag (enough for one meal for your family).
Put the other half of the chicken in another freezer bag
Add enough Italian dressing to cover the chicken
Close the bags and work the dressing all over the chicken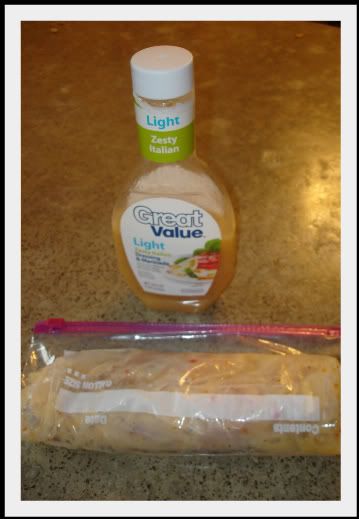 Put one bag in the refrigerator (for this week's meal)
Put the other bag in the freezer (for another meal down the line)
When you are ready to cook the chicken, pull it out of the refrigerator and place the chicken in a baking dish.  If you are using the frozen chicken, transfer it from the freezer to the refrigerator the day before to thaw.
Now, put the chicken in the oven and cook until done (mine took about 30 minutes at 350 degrees).  Just cut into the center of the pieces to see if they are done all the way.  When the look almost done, put some finely shredded cheese on top and cook for another 3-5 minutes .
Remove from the oven once the cheese is melted and serve with potatoes, mixed vegetables, and wild berry muffins.  Enjoy!